@killersrot • ON-LINE!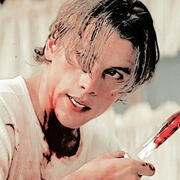 𝑵𝑶𝑼𝑽𝑬𝑳-𝑺𝑶𝑳𝑬𝑰𝑳!
she/her, bisexual, turning fifteen, horror obsessed, slytherpuff
𝑰 𝑳𝑰𝑲𝑬 𝑰𝑻
anything with ryan reynolds, true crime (1995), fear (1996), psych, harry potter, princess bride, ten things i hate about you, gothika, scream, the call, split, it, speed, pitch perfect, veronica mars, gilmore girls, the 100, vampire diaries, supernatural, fear street, criminal minds, stranger things, adventure time, buzzfeed unsolved, cruel summer, the fosters, community, switched at birth, six of crows, one of us is lying.
𝑷𝑬𝑶𝑷𝑳𝑬 𝑰 𝑳𝑶𝑽𝑬!
lay, mira / aeira / nyx, liz, soleil, mila, mal, amelie, frankie, leslie, jj, ava, emma